Mattress Disposal And Recycling
Fill out our online booking form with the items you want recycled. We'll contact you to confirm the cost of your pickup.
Bring your old bed to our recycling facility and drop it off at our loading bay #16. Cash only.
Canadian Mattress Recycling
At Canadian Mattress Recycling, we practice what we preach: we recycle nearly 100% of everything we receive at our recycling facility. Since 2011, we've helped businesses and residents reach their zero waste goals by dismantling their old beds and furniture.
Recycling your mattress doesn't have to be a hassle – get rid of your old mattresses in a sustainable and cost-effective manner when you choose Canadian Mattress Recycling. As BC's #1 mattress recycler, we're committed to ensuring close to 100% of each mattress is recycled in our facility. Maple Ridge residents and businesses, rejoice! Book a pickup with us or drop off your items at our facility following our guidelines below.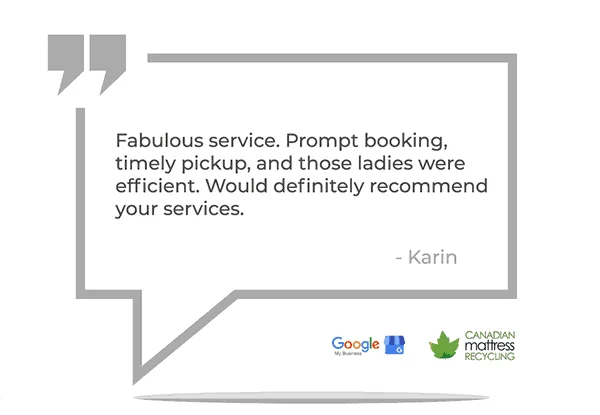 FILL THE ONLINE FORM
Fill the form with your request.
WAIT FOR A CALL BACK
We'll call you back Monday – Friday during our office hours to confirm your pickup.
CONFIRM PICKUP
Confirm the pickup over the phone, and either pre-pay via Interact E-Transfer or on the day of pickup.
SAY BYE TO YOUR OLD ITEMS!
Our pickup crew will give you a heads up 30 minutes to 1 hour before arrival, and help you haul away your items.
Please read below before filling in the contact form
Please complete this Commercial Recycling Contact Form and include as much information as possible about the number and kinds of items to be recycled, your timeline for this job or project, and any questions you may have.
Please note that depending on the type of recycling you need us to do for you, the prices may or may not be the same as posted on our website.  For example, large hotel jobs usually qualify for volume pricing.
Tel:  (604) 777-0324
#140 – 715 Eaton Way, Delta BC. V3M 6S5