Surrey Mattress Disposal And Recycling
Cloverdale, Guildford, Fleetwood, Fraser Heights, Newton, South Surrey, Whalley, Port Kells, and Ocean Park.
Fill out our online booking form with the items you want recycled. We'll contact you to confirm the cost of your pickup.
Bring your old bed to our recycling facility and drop it off at our loading bay #16. Cash only.
About Canadian Mattress Recycling
Canadian Mattress Recycling Inc is Metro Vancouver's leading mattress recycling facility. We dispose of and recycle mattresses from residents in Vancouver and the Lower Mainland. Since we opened our doors eight years ago we have recycled over 25 million lbs. We make it easier for residents and commercial businesses alike to dispose of their old mattresses responsibly.
Locally-Owned and Operated
We are a 100% locally-owned and operated company based in Delta, BC. Our team of employees are dedicated to environmental preservation through recycling.
Award-Winning Service
We're consistently rated 4.8 stars on Google, and receive rave reviews from our past clients. We were also the recipients of the Green Business of the Year Award by the Delta Chamber of Commerce in 2016.
Hassle-Free Online Booking
Booking a pickup with us is hassle-free. Simply fill out our online form, and we'll contact you during our office hours to confirm your pickup. We serve Vancouver and the Lower Mainland.
We Recycle Everything We Receive
We put old mattresses, box springs, and furniture back to work. We dismantle them at our recycling facility, recycling close to 100% of everything we receive. Salvaged steel, foam, plastic, cotton, polyester, coir, wood, leather, and cardboard become new products instead of landfill waste.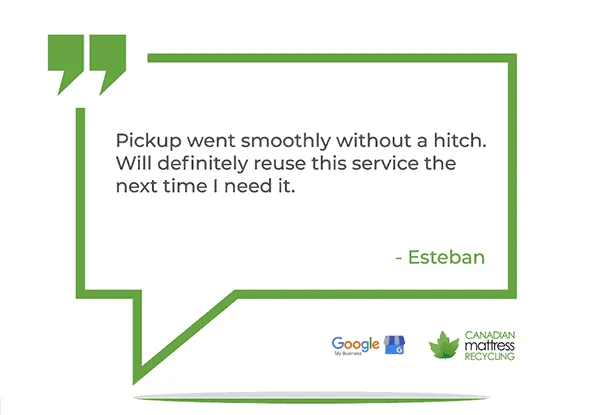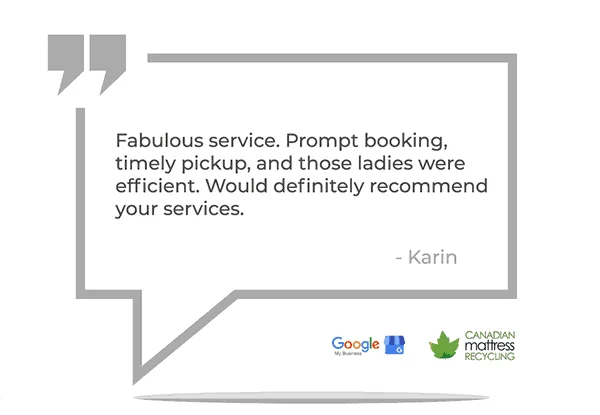 FILL THE ONLINE FORM
Fill the form with your request.
WAIT FOR A CALL BACK
We'll call you back Monday – Friday during our office hours to confirm your pickup.
CONFIRM PICKUP
Confirm the pickup over the phone, and either pre-pay via Interact E-Transfer or on the day of pickup.
SAY BYE TO YOUR OLD ITEMS!
Our pickup crew will give you a heads up 30 minutes to 1 hour before arrival, and help you haul away your items.
Please read below before filling in the contact form
Please complete this Commercial Recycling Contact Form and include as much information as possible about the number and kinds of items to be recycled, your timeline for this job or project, and any questions you may have.
Please note that depending on the type of recycling you need us to do for you, the prices may or may not be the same as posted on our website.  For example, large hotel jobs usually qualify for volume pricing.
Tel:  (604) 777-0324
#140 – 715 Eaton Way, Delta BC. V3M 6S5