Services For Burnaby BC Residents
Brentwood Park, Willingdon Heights, Parkcrest, Renfrew-Collingwood, Westridge,
Sullivan Heights, Maywood, Burnaby Heights, and Burnaby Mountain.
Fill out our online booking form with the items you want recycled. We'll contact you to confirm the cost of your pickup.
Bring your old bed to our recycling facility and drop it off at our loading bay #16. Cash only.
Why do we need to recycle mattresess?
They take up lots of space in landfills.
They can damge landfill equipment.
They take decades to decompose.
They release toxic chemicals when they decompose.
Valuable materials from a mattress can be repurposed.
Whether you're doing some spring cleaning or summer remodelling, you might find yourself wondering about how to get rid of large items like furniture and mattresses from your home. While many junk removal companies offer removal services, do you know if they recycle? The truth is, not many services in Vancouver offer mattress and furniture recycling. At Canadian Mattress Recycling, not only do we pick up your mattresses from your home, we also recycle them at our facility.
But you might be wondering – why should you care?
It takes up anywhere from 80 to 100 years for a mattress to decompose in the landfill. And when the average person uses 8 mattresses in their lifetime, it will take over 700 years for all of them to decompose in a landfill.
In comparison, when mattresses are recycled, their materials are immediately salvaged for reuse. Foam, wood, fabric, and metal can be given a second life. Instead of clogging up landfills, mattresses can be made into new items by local manufacturers.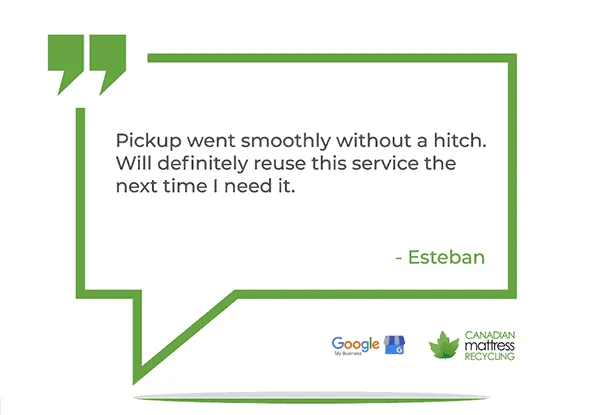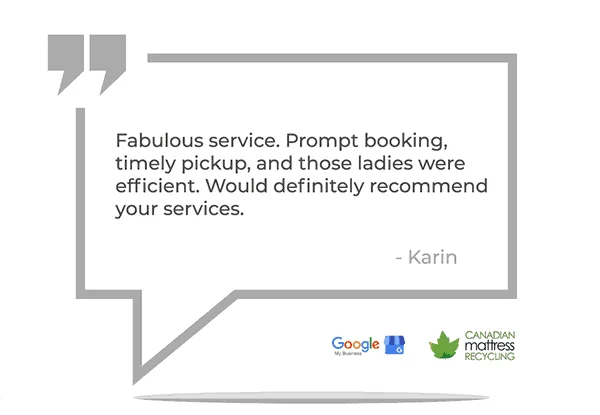 FILL THE ONLINE FORM
Fill the form with your request.
WAIT FOR A CALL BACK
We'll call you back Monday – Friday during our office hours to confirm your pickup.
CONFIRM PICKUP
Confirm the pickup over the phone, and either pre-pay via Interact E-Transfer or on the day of pickup.
SAY BYE TO YOUR OLD ITEMS!
Our pickup crew will give you a heads up 30 minutes to 1 hour before arrival, and help you haul away your items.
Please read below before filling in the contact form
Please complete this Commercial Recycling Contact Form and include as much information as possible about the number and kinds of items to be recycled, your timeline for this job or project, and any questions you may have.
Please note that depending on the type of recycling you need us to do for you, the prices may or may not be the same as posted on our website.  For example, large hotel jobs usually qualify for volume pricing.
Tel:  (604) 777-0324
#140 – 715 Eaton Way, Delta BC. V3M 6S5